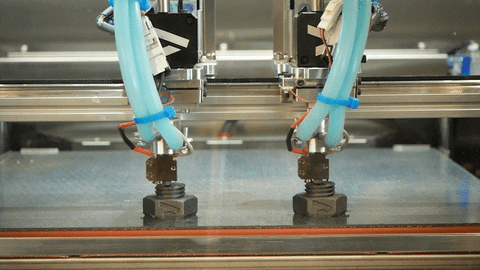 Today, AON3D announced they will showcase High Temperature Duplication Mode at RAPID + TCT, a first for the FFF 3D Printer market. It is well known that widespread adoption of Additive Manufacturing has hinged on four main prerequisites: the ability to print high performance parts, with little to no post processing, fast, and at scale. This feature delivered by AON3D will advance the industry with increased part throughput, printed in the world's most advanced materials; materials with higher strength to weight ratio than some metals, high chemical resistance, and continuous use temperatures that can exceed 250°C.
This feature that doubles printer output aligns with President Biden's new Additive Manufacturing Forward initiative, which seeks to provide small and medium-sized manufacturers access capital to implement 3D printing for in-house manufacturing purposes and at lower cost.
AON M2+ IDEX — Functional Parts, Double Output
Announced in March, a new firmware update for the AON M2+ High Temperature 3D Printer will unlock full capabilities of the printer's independent dual extrusion (IDEX) system by enabling users to print multiple parts at the same time with optional Duplication Mode and Mirror Mode. "With the initial release, AON3D's Duplication and Mirror Modes will support several commodity and engineering grade polymers", Chief Product Officer Randeep Singh said, "We look forward to adding new and high-performance materials in the near future."
New, High-Performance Materials on Display
In addition to output, part quality and final part properties are quintessential components of the AON3D ecosystem. The ability to print materials such as PEEK, PEKK, and ULTEM™ enables additively manufactured parts to withstand some of the most demanding applications known to man, including the first 3D printed parts to land on the moon later this year. Along with IDEX, AON3D plans to showcase several exciting new materials compatible with the AON M2+ including:
​Zymergen Z2 Polyimide – This soon to be released amorphous polymer, with excellent printability and low warpage, has critical advantages for printing parts that require high mechanical performance.
VICTREX AM™ 200 LMPAEK™ (low-melt polyaryletherketone)– A new high-performance, semi-crystalline polymer that exhibits excellent mechanical, thermal, and chemical properties with better interlayer weld strength and improved printability over other PAEK family materials.
Braskem FL900PP-CF – A carbon fiber reinforced polypropylene that is 6x stronger than traditional unfilled polypropylene filaments and up to 15% lighter than ABS. This low-density material offers superior mechanical and thermal properties and contains 100% recycled carbon fiber.
AON3D will be exhibiting in booth #3820 at RAPID + TCT 2022 in Detroit, Mi. May 17th – 19th. Free expo passes can be acquired via AON3D's RAPID + TCT promotion page. If unable to attend, the company has a team of additive manufacturing specialists and applications engineers able to discuss intricacies of your individual needs and projects by contacting AON3D here.